Auke Visser's Other Esso Related Tankers Site
|
home




Yorba Linda - (1921-1926)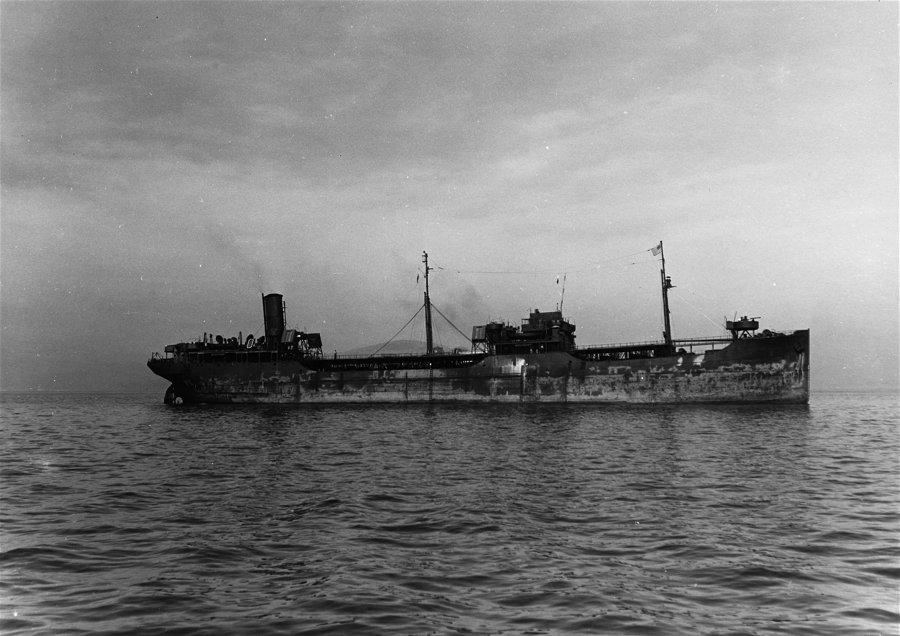 "Yorba Linda", during war time.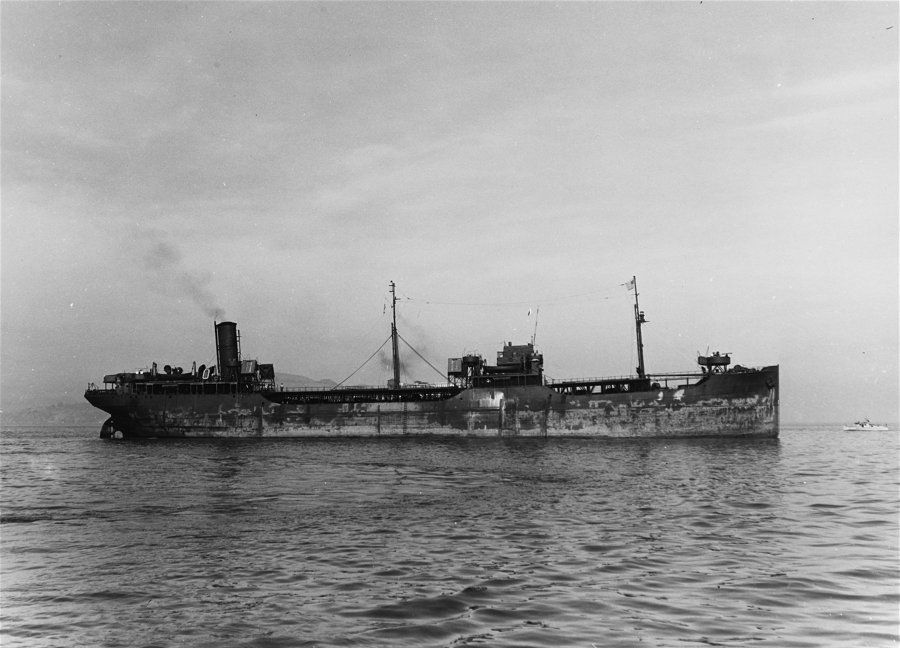 "Yorba Linda", during war time.
The "Yorba Linda", seen here towing the "Mobilube" in 1947, was built in 1921.
Sold for scrap in 1953.
"Yorba Linda".
Source : Pacific Marine Review, Volume 17, October 1919
NEW CONSTRUCTION
BETHLEHEM SHIPBUILDING CORPORATION, LTD., Alameda Works.
Yorba Linda, hull 5307, tanker for General Petroleum Company, keel laid May 17/20; launching October 30/20,
estimated; delivery January 27/21, estimated; 435 LBP; 56 beam; 26 loaded draft; 11 loaded speed; 11,100 DWT; Rec. engines, 2700 IHP; 3 Scotch boilers, 15 x 11-9.

Yorba Linda
LOA 453 ', Beam 56 ', Depth 36 ' 6 ", 11,000 DWT, 76,281 bbls. Triple expansion engine 48" stroke 10.6 knots.
Commissioned 21 January 1921 at Bethlehem Shipbuilding Corporation, Alameda, California. Purchased later in 1921 by General Petroleum Company and acquired in 1926 by Socony.
Yorba Linda was brought to the US east coast after Socony acquired her and placed on the shuttle run from Beaumont, Texas, to the cold side of Hatteras. With a few exceptional offshore voyages she remained in domestic service for almost 15 years.
On 3 July 1933, Yorba Linda was plunging into heavy seas 112 miles south of New York, making what time she could against a raging nor'easter. Visibility was slight, but better than none at all. Suddenly a sea-battered,sloop-rigged yacht hove into sight with seven people clinging desperately to her stripped rigging. She was the Shawara, an unlucky entrant in the New York-Bermuda race. Six men and one woman owe their lives to Yorba Linda.
Shortly before the outbreak of WWII yorba linda was sold to Standard-Vacuum Oil Company, a partially-owned enterprise, and placed in Stanvac's Panamanian fleet. She was requisitioned for war service by WSA and led a charmed life. The closest she came to bleeding was when she was subjected to a blistering German air raid while delivering a cargo of Navy fuel to Malta in March 1943.
After the war, she distinguished herself by towing the "dead" Mobilube ( which had been torpedoed just outside Sydney, Australia, and used throughout the war by the Navy as a "non-self-propelled" yard oiler ) from Subic Bay, Philippines, across the Pacific to San Francisco for repairs. ( See below )
Yorba Linda was sold by Standard-Vacuum Oil Company in October 1953 for the value of her steel.

A new marine towing record — 6,350 miles — was established in 1947 by Socony Vacuum Oil Company, Inc., in towing its war damaged tanker Mobilube from Subic Bay in the Philippine Islands to San Francisco Bay.
When a Jap torpedo found its mark In January, 1943, the Mobilube's hull was damaged and her engine room put out of ommission. For the remainder of the war she served the Navy as a mobile oil tank, being towed behind active units of the United States Fleet.
The saga of this record tow began on May 26, 1947, when a Standard Vacuum Oil Company tanker, the Yorba Linda, steamed out of Subic Bay with the Mobilube in tow behind two hundred fathoms of Tubbs Extra Superior Manila Rope. According to Captain A. L dark, the Mobilube's original skipper, the strain on the 12" Extra Superior was so great at times that the line calipered only 9 5/8" circ. Extra Superior Manila once again proved its complete dependability and brought the tanker home safely 45 days after leaving Subic Bay.

The Miramar Ship Index for

YORBA LINDA

IDNo / IMO

2221009

Year

1921

Name

YORBA LINDA

Flag

USA

Owner

General Petroleum Corp.

Type

Tanker

Tons

6900

DWT

10100

LOA

138.07

LPP

132,60

Beam

17,10

Draft

7.92

Machenery

1T-10.5

ShipDesign

Builder

Bethlehem SB Corp

Yard

Alameda

Yard No

5307

Country built

USA

Keel

17.05.1920

Launch

22.11.1920

Completed

21.01.1921

Subsequent History

1926 YORBA LINDA - Standard Tptn., Co., Inc.

1931 YORBA LINDA - Standard-Vacuum Tptn Co., Inc.

1936 YORBA LINDA - Socony-Vacuum Oil Co., Inc.

1941 YORBA LINDA - Petroleum Sg., Co., Ltd.

End

1953

Disposal Data

Scrapped at Hikari 06.1953