Auke Visser's Other Esso Related Tankers Site
|
home




I.O. Ltd. No. 6 - (1922-1989)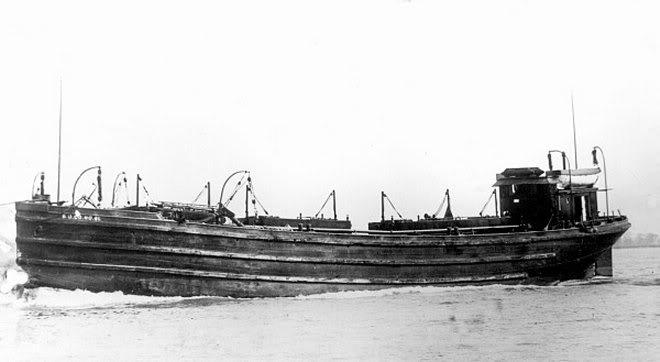 "S.O. Co. No. 41" was a tankbare build in 1903 by Burlee Dry Dock Co. Port Richmond, NY, for Standard Oil Co.
New York, NY, USA, sold to Imperial Oil, Ltd., Sarnia, Ont. Canada in 1905, renamed as "I.O. Ltd. No. 6" in 1922.
Sold in 1969, with same name to Dartmouth (N.S.) Salvage, Ltd. Dartmouth, N.S. Canada, sold in 1972 to
Consortium I'le D'Orleans (See Memo) Montreal, P.Q. Canada and renamed as "Grindstone Island". Sold to
Alpha Demolition, Inc. Pointe-aux-Trembles, P.Q. Canada in 1977, same name. Dropped from Canadian List of
Shipping in 1983; presumed scrapped.
"I.O. Ltd. No. 6" March 21th, 1970.
( Photo Copyright Mac Mackay )
"I.O. Ltd. No. 6" June 1970.
Registry and Rig Information

Vessel Name

S.O. Co. No. 41

Nationality

U.S.

Official Number

162028

Rig

Tank Barge

Dimensions and Tonnage

Vessel Length:

156.50 feet.

Gross Tonnage:

494.00

Vessel Width:

30.00 feet

Net Tonnage:

481.00

Vessel Depth:

12.00 feet

Hull Material:

Steel

Masts:

Hull Number:

Vessel History

Builder

Burlee Dry Dock Co. Port Richmond, NY 1903

Ownership Changes

Date

Registry

Official #

Standard Oil Co.

New York, NY U.S.

1903- 1905

U.S.

162028

Imperial Oil, Ltd.

Sarnia, Ont. Canada

1905- 1969

CANADA

116952

Dartmouth (N.S.) Salvage, Ltd.

Dartmouth, N.S. Canada

1969- 1972

CANADA

116952

Consortium I'le D'Orleans (See Memo)

Montreal, P.Q. Canada

1972- 1977

CANADA

116952

Alpha Demolition, Inc.

Pointe-aux-Trembles, P.Q. Canada

1977- 1983

CANADA

116952

| | | | |
| --- | --- | --- | --- |
| Vessel Name Changes | Date | Registry | Official # |
| S.O. Co. No. 41 | 1905- 1922 | CANADA | 116952 |
| I.O. LTD. No. 6 | 1922- 1972 | CANADA | 116952 |
| GRINDSTONE ISLAND | 1972- 1983 | CANADA | 116952 |

| | |
| --- | --- |
| Rebuilds | Canadian measures, 1905 (156.5 x 30 x 12; 481 gross - 481 registered). Tonnage & dimension change (155.75 x 30 x 12.16; 398 gross - 398 registered). |
| History | Owners: Consortium I'le D'Orleans (Richelieu Dredging Corp., Inc., Montreal, P.Q.; McNamara Corp., Ltd., Willowdale, Ont.; The J.P. Porter Co., Ltd., Montreal, P.Q.) |
| Disposition | Dropped from Canadian List of Shipping in 1983; presumed scrapped. |