Auke Visser's Other Esso Related Tankers Site
|
home




Esso Margarita (1953-1972)

ESSO MARGARITA
Shipyard: RDM.
Client: Compania de Petroleo Lago, Maracaibo.
Tonnage: 7435 GRT, 3648 nrt, 10 905 dwt, total displacement 13 770, 450 000 cft tank capacity.
Main dimensions: Loa = 129.54 m, Lll = 123.75 m, B = 20.12 m, H = 8.84 m, d = 6.80 m.
Propulsion: Two oil-fired Babcock-Wilcox water-tube boilers, two RDM Frederikstad compound steam engines, four cylinder, 2000 ipk each, two screws, 108 rpm, total 4000 apk, speed 12 knots.
Additional information: call sign: YVAA. The construction of the hull, which is substantially electrically welded, to pass to the nowadays usual manner, namely, by application of building section (pre-fabrication), this is the slope of the welding together in the workplace completely ready-made sections. The vessel is fitted with longitudinal rafters. Classification: ABS Al E (oil carrier). 18 for liquid cargo equipped boats, with a total capacity of 12 760 m3, loaded or unloaded by three 500 hp turbo-charge pumps, each with a capacity of 850 tons of oil per hour and two vertical duplex stripping pumps, each with a capacity of 160 tonnes per hour. The twin-screw ship is equipped with two spade rudders are moved by a steam engine. The windlass and three winches are also driven by steam. Two of the latter winches are designed to operate 6 pieces 5 tons derricks, of which two on the foremast and four to four pieces charging poles are rigged. The 3rd, aft mounted, mooring winch operates two pieces on two charging stations testified three ton derricks. The crew is housed in a maximum of 2 persons spacious and comfortable cabins located amidships been focused in and on the stern located. Amidships master has a large tastefully paneled salon. The convenience of the other crew at the stern a spacious dining room for officers and one for the lower crew decorated. A nice furnished day room is available to them. All stays are artificially ventilated. Outside of the usual resources for modern navigation, the ship is also equipped with a gyrokompas-, a radar and a echo sounder installation
History:
The keel was laid on January 31, 1953 and on August 22, 1953 the ship was launched. The christening ceremony was performed by Mrs Robert W. Miller, wife of the vice president and director of Creole Petroleum Corporation in New York. The champagne bottle was here the old fashioned way with "female force" and successfully thrown against the stem piece. But she was a little bit of help from the yard, at the eleventh hour by sliding the stand slightly closer to the bow. From 6 to January 9, 1954 a good successful technical trial was held. The transfer of the tanker to the new owner, the Compania de Petroleo Lago, took place on January 15, 1954. On January 17, 1954 the ship of the RDM shipyard moved to Venezuela, where carrie crude oil and will go sailing on the short stretch between Lake Maracaibo and on the island of Aruba situated Lago refinery. In 1972 the ship was sold to Recuperadora National de Metales SA in Venezuela and demolished it.

Completed "Esso Margarita" at the RDM Shipyard.
Completed "Esso Margarita" at Sea-trials.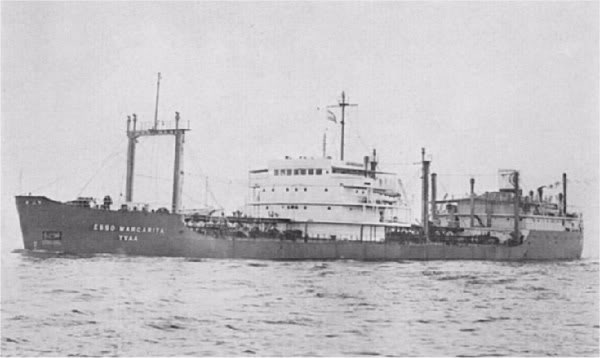 "Esso Margarita" was build in Holland in 1953, for the Lago Oil Comp. Sistership is "Esso La Guaria".
Completed "Esso Margarita" at Sea-trials.
"Esso Margarita" at Sea-trials.
ESSO MARGARITA (YVAA) steam tanker
Shipyard: De Rotterdamsche Droogdok Maatschappij - Rotterdam Yard number: 286
Owners: Compania de Pétróleo Lago - Maracaibo
Classification:
American Bur. of Shipping Al E (oil carrier)
Length o.a. ... 129.54 m
Length b.p. ... 123.75 m
Breadth ........ 20.12 m
Depth ........ 8.84 m
Draught ...... 6.80 m
Gross register .... 7435 t
Net register .... 3648 t
Deadweight .... 10.905 t
Tankcapacity 450.000 cft
Main engine:
2 RDM-Frederikstad compound steam engines - 2000 ihp. - 4 cyl. - 108 r.p.m.
Speed : 12 kn
Construction: partly electrically welded; longitudinal framing; one deck; twin screw
Launched: August 22, 1953
Commissioned: January 15, 1954
"Esso Margarita". Built 1954 by Rotterdamse D.D. Maatshappij, Rotterdam.
1972 Sold to Recuperadora National de Metales S.A., Venezuela. Work began in that year.
The Miramar Ship Index for "ESSO MARGARITA"
| | | | |
| --- | --- | --- | --- |
| IDNo: | 5107906 | Year: | 1954 |
| Name: | ESSO MARGARITA | Keel: | |
| Type: | Tanker | Launch Date: | 22.08.1953 |
| Flag: | VEN | Date of completion: | 01.1954 |

Tons:

7435

Link:

-

DWT:

10905

Yard No:

286

Length overall:

129.5

Ship Design:

LPP:

123.7

Country of build:

NLD

Beam:

20.2

Builder:

Rotterdam DD

Material of build:

Location of yard:

Rotterdam

Number of screws/Mchy/Speed(kn):

2C-12

Subsequent History:
-
Disposal Data:
Scrapped at Venezuela 1972 [ By Recupadora National de Metales S.A. ]
History:
| | | | | | | | |
| --- | --- | --- | --- | --- | --- | --- | --- |
| ON | LR/IMO | ID | Year | Name | Tons | Change | Registered Owner |
| | 5107906 | 5107906 | 1954 | ESSO MARGARITA | 7435 | - | Cia de Petroleo Lago |