Auke Visser's Other Esso Related Tankers Site
|
home




Esso Venezuela - (1947-1961)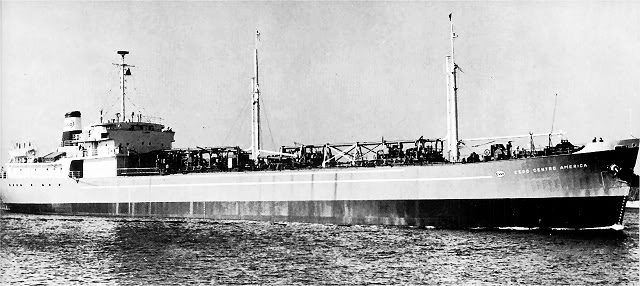 The "Esso Centro America", as seen here, formerly the T1-M-BT2 tanker "Tarauca", after conversion to a liquified gas tanker.
Build for the USMC (#2638) in August 1945, by Todd Houston Shipbuilding Co., Houston TX., building No. 211.
Sailed from 1946 till 1961 as "Esso Venezuela", for Cia. de Petroleo Lago, Maracaibo, Venezuela.
Of interest was the conversion of the ESSO VENEZUELA into a carrier of liquid ammonia or propane at their respective boiling temperatures. On 31 December 1961 she arrived at the AG 'Weser', Bremerhaven yard to be converted, her entire midships being removed, except the midship superstructure, which was retained. A new midship section, 229 ft 8 in, was built, this corresponding in depth to the poop and fo'c'sle decks. It was then joined to the old fore and aft sections in drydock and the old midship bridge superstructure was then placed aft, just forward of the funnel. To carry the gas at the constant carrying temperatures necessary so that the liquid would not vaporise (ammonia — 28 °F and propane — 44 °F), four special low-temperature-resistant steel containers were installed in the new section, one in each of four holds. Renamed ESSO CENTRO AMERICA, she was put under control of the Esso Transport Co Inc, Panama, a subsidiary of the Standard Oil Company of New Jersey.

TARAUCA - 1945 USA 1M (aft)
3,160 GRT for U. S. War Shipping Administration, Houston 311.3 x 48.3
Tanker built by Todd-Houston SB. Corp., Houston (8/45) #211
1945 - MONTEBELLO, s/o
1946 - ESSO VENEZUELA, Cia. de Petroleo Lago, Maracaibo, VE
1961 - Panama Transport Co., Panama, PA
1962 - ESSO CENTRO AMERICA, s/o, converted to l.p.g. tanker and lengthened by replacing cargo section
with new mid-body built by A.G. Weser, Bremen, resulting vessel 4,595 grt, 370.3', delivered. -9/62
1962 - Panama Transport & Tanker Co. S.A., Panama
1964 - Esso Transport Co. S.A., Panama - s/o
1969 - MONOMER VENTURE, Mundogas (Storage), Inc., Panama, [Øivind Lorentzen, Oslo]
1984 - GAS VENTURE, Gulf Gas S.A., Panama, [Lexington Marine Transport, Inc., New York]
Broken up at Brownsville, Texas, 1985 by American General Resources,
arrived 09.11.1985.
The Miramar Ship Index for "TARAUCA"
| | | | |
| --- | --- | --- | --- |
| IDNo: | 5615813 | Year: | 1945 |
| Name: | TARAUCA | Keel: | |
| Type: | Tanker | Launch Date: | 02.05.1945 |
| Flag: | USA | Date of completion: | 08.1945 |

Tons:

3235

Link:

-

DWT:

4205

Yard No:

211

Length overall:

99.1

Ship Design:

T1-M-BT2

LPP:

94.2

Country of build:

USA

Beam:

14.6

Builder:

Todd-Houston

Material of build:

Location of yard:

Houston

Number of screws/Mchy/Speed(kn):

1D-10

Subsequent History:
1945 MONTEBELLO - 1946 ESSO VENEZUELA -
[ 1962 Lg 112.9 m, 4595 grt, converted to LPG tanker ] -
1962 ESSO CENTRO AMERICA - 1969 MONOMER VENTURE - 1984 GAS VENTURE
Disposal Data:
Scrapped at Brownsville 09.11.1985
History :
| | | | | | | | |
| --- | --- | --- | --- | --- | --- | --- | --- |
| ON | LR/IMO | ID | Year | Name | Tons | Change | Registered Owner |
| | | 5615813 | 1945 | TARAUCA | 3235 | | U.S. Govt. |
| | | 5615813 | 1945 | MONTEBELLO | 3235 | 1945 | U.S. Govt. |
| | | 5615813 | 1945 | ESSO VENEZUELA | 3235 | 1947 | Petroleo Lago |
| | | 5615813 | 1945 | ESSO CENTRO AMERICA | 4595 | 1962 | Panama Tpt Co. |
| | | 5615813 | 1945 | MONOMER VENTURE | 4595 | 1969 | O. Lorentzen |
| | | 5615813 | 1945 | GAS VENTURE | 4595 | 1984 | Lexington Marine Tpt. |