Auke Visser's Other Esso Related Tankers Site
|
home




Imperial Charlottetown - (1948-1954)

Build in 1944 by Sun SB & DD Co., Chester, Pa, as "Sag Harbor" a T2-tanker, for USMC.
Sold privatly in 1946 and renamed "Esso Portsmouth", for Esso Shipping Co.
1948 "Imperial Charlottetown".
The tanker Sag Harbor was built by Sun Ship under the U.S. Maritime Commission contract as a T2-SE-A1 tanker in March 1944, and joined the Standard Oil fleet as the Esso Portsmouth in 1946. She became the Imperial Charlottetown for Imperial Oil Shipping in 1948, and was sold to Ocean Marine of Monrovia and renamed the San Juan in 1954. She was converted to the bulk carrier Gold Star at La Spezia in 1961, and was renamed one more time, as the Calypso of the Trading Shipping Corporation of Monrovia in 1971, before being broken up at Bilbao in 1974.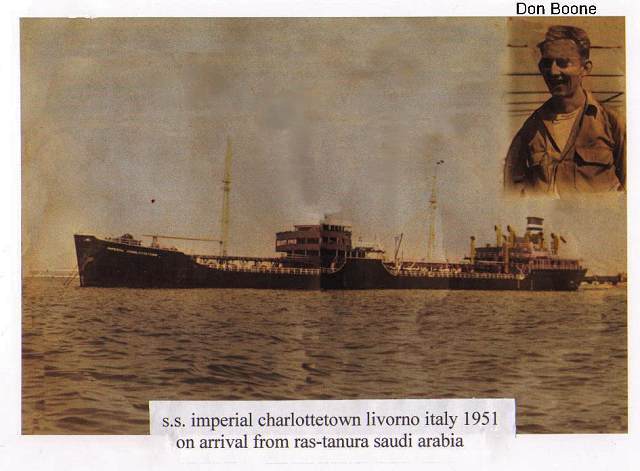 Don Boone mailed me this picture of the "Imperial Charlottetown" and wrote ;
Attached is pic of me as Ordinary Seaman on S\T Imperial Charlottetown.
I also was on Imperial Ottawa 1974 and 1975.
-- I like your website---Thanks--Don Boone Collingwood Ont. Canada.
Imperial Oil Company tanker "Imperial Charlottetown".
"Gold Star", ex. "San Juan", ex. "Imperial Charlottetown", ex. "Esso Portsmouth", ex. "Sag Harbor",
at Genoa, Italy, November 30th, 1962. "West River", on the left.
( Photo Copyright Giorgio Ghiglioni )
"Gold Star", ex. "San Juan", ex. "Imperial Charlottetown", ex. "Esso Portsmouth", ex. "Sag Harbor",
in the Brittish Channel in 1968. My brother Lello was on board for 1 year as oiler
( Photo thanks to Giancarlo Baudoino )
Additional information :
T2-SE-A1
Built March 1944 by Sun Shipbuilding Company, Chester, Pennsylvania,
as "Sag Harbor" # 645, for U.S.M.C.
1946 - ESSO PORTSMOUTH, Standard Oil Company (New Jersey), Wilmington, Del.
1948 - IMPERIAL CHARLOTTETOWN, Imperial Oil Shipping Co., Ltd., Halifax, N.S., CA
1954 - SAN JUAN, Ocean Marine, Ltd., Monrovia [F. Zaccaro, Genoa], LI
1961 - GOLD STAR, s/o converted to bulk carrier at La Spezia, 11,873 grt
1971 - CALYPSO, Trading Shipping Corp., Monrovia [Sebastiano Tuillier, Lugano]
Broken up at Bilbao 1974 by Hierros Ardes S.A., arrived 19.02.1974.
The Miramar Ship Index for "SAG HARBOR"
| | | | |
| --- | --- | --- | --- |
| IDNo: | 5132949 | Year: | 1944 |
| Name: | SAG HARBOR | Keel: | |
| Type: | Tanker | Launch Date: | 06.03.1944 |
| Flag: | USA | Date of completion: | 03.1944 |

Tons:

10297

Link:

-

DWT:

16613

Yard No:

337

Length overall:

159.6

Ship Design:

T2-SE-A1

LPP:

153.3

Country of build:

USA

Beam:

20.7

Builder:

Sun

Material of build:

Location of yard:

Chester, Pa

Number of crews/Mchy/Speed(kn):

1TE-15

Subsequent History:
1946 ESSO PORTSMOUTH - 1948 IMPERIAL CHARLOTTETOWN - 1954 SAN JUAN -
1961 GOLD STAR - 1971 CALYPSO
Disposal Data:
Scrapped at Bilbao 19.02.1974. [ By Hierros Ardes ]
History:
| | | | | | | | |
| --- | --- | --- | --- | --- | --- | --- | --- |
| ON | LR/IMO | ID | Year | Name | Tons | Change | Registered Owner |
| 245305 | | 5132949 | 1944 | SAG HARBOR | 10297 | | U.S. Govt. |
| 245305 | | 5132949 | 1944 | ESSO PORTSMOUTH | 10297 | 1946 | Standard Oil Co (New Jersey) |
| 178993 | | 5132949 | 1944 | IMPERIAL CHARLOTTETOWN | 10297 | 1948 | Imperial Oil .,Co., Ltd. |
| 490 | | 5132949 | 1944 | SAN JUAN | 10297 | 1954 | Ocean Marine Ltd. |
| 490 | 5132949 | 5132949 | 1944 | GOLD STAR | 11873 | 1961 | Ocean Marine Ltd. |
| 490 | 5132949 | 5132949 | 1944 | CALYPSO | 11873 | 1971 | Trading Sg., Corp. |