Auke Visser's Other Esso Related Tankers Site
|
home




Ontariolite - (1925-1946)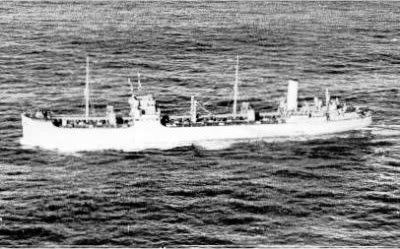 "Ontariolite", was build in 1925, renamed "Imperial Victoria" in 1946, scrapped in 1949.
Imperial Oil operated its own fleet of tankers until creating Imperial Oil Shipping Company in 1935, and the Ontariolite was a typical vessel of the pre-war era - in this case moving oil from California to the Ioco Refinery in Burrard Inlet. The Ontariolite was German built for Imperial Oil in 1925 at the Germania shipyard in Kiel (Friedrich Krupp Germaniawerft). She became the Imperial Victoria in 1946, and was broken up by Northern Metals in Philadelphia in 1949.

"Ontariolite".
Shown docked at San Francisco, California, about 1943, probably at a shipyard undergoing repair.
ONTARIOLITE returned to the service of the imperial oil co., LTD after the war and was renamed
IMPERIAL VICTORIA in 1946. She was broken up in the United States in 1949.
( Photo Copyright NHHC )
"Ontariolite".
"Ontariolite".
( Photo Copyright Walter E. Frost )
Information from Starke & Schell Ships-registers;
ONTARIOLITE - 1925 CA 2M (aft) (10¼)
8,932 GRT for Imperial Oil, Ltd., Toronto / Montreal 470.0 x 63.2
Tanker built by Frd. Krupp A.G., Kiel, (12), #479, 152788
1946 - IMPERIAL VICTORIA, s/o
Broken up at Philadelphia 1949 by Northern Metals Co., arrived 07.10.1949 in tow.
History:
| | | | | | | |
| --- | --- | --- | --- | --- | --- | --- |
| ON | LR/IMO | ID | Year built | Name | Tons | Change |
| 152788 | | 1152788 | 1925 | ONTARIOLITE | 8932 | |
| 152788 | | 1152788 | 1925 | IMPERIAL VICTORIA | 8932 | 1946 |