Auke Visser's Other Esso Related Tankers Site
|
home




Esso Oranjestad (I) - (1955-1969)

Tug stationed at Aruba.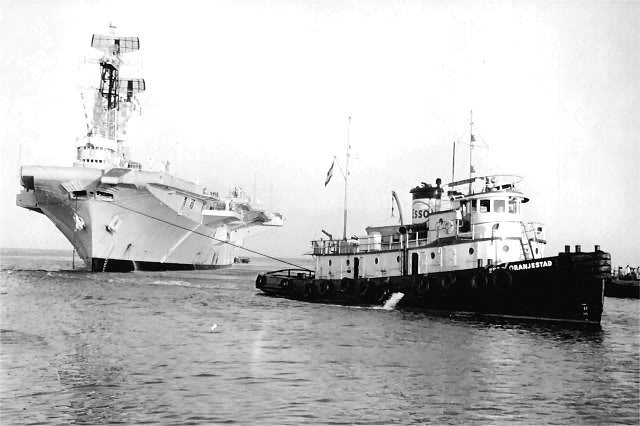 MS "Esso Oranjestad (I)".
( Photo thanks to Michael Coffi )
"Esso Oranjestad (I)" in the Oranjestad Harbor Assisting Government Tug boat "Arikok" In 1964.
Tug "Esso Oranjestad" had Captain Edgar Coffi & Captain Turner onboard.
While assisting Government Tug boat "Arikok" with the docking of "HMS KAREL DOORMAN", "Arikok" got a
rope in their proppeller so "Oranjestad" had to take over the complete task of docking the Aircraft Carrier.
M.SLB. "ESSO ORANJESTAD (I)" PJIK 1955-1969
1955 Gulfport Shipbuilding & Drydock Corporation, Port Arthur (468).
253 B.R.T., 109 N.T., - L X B X H = 32.01(30.56) x 8.28 x 3.88 meter.
2 tew 16 cil. dieselmotor General Motors Corp., Cleveland, Ohio (222 x 267) op een generator
gekoppeld aan een elektromotor (1942), 1.250 r.p.k.
1969: "ESSO BARBAD()S", Esso Transport Co. Inc., Panama.
1974: "CREOLE FIRME", Creole Petroleum Corp., Maracaibo.
1977: "LAGOVEN FIRME", Lagoven S.A., Maracaibo.
1992 :"FIRME", PDV Marine SA, Caracas.
Nog steeds in de vaart.