Auke Visser's Other Esso Related Tankers Site
|
home




Esso Santa Cruz - (1977-1987)

Tug stationed at Aruba.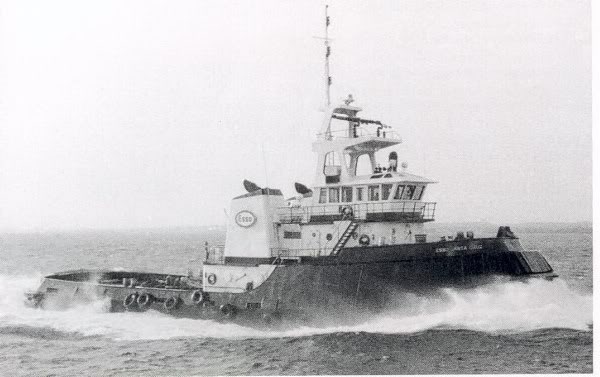 MS "Esso Santa Cruz".
"Esso Santa Cruz", on April 16th, 1987, te Houston Texas.
M.SLB. "Esso Santa Cruz" PJWI 1977-1987.
1.1977 Atlantic Marine Inc., Jacksonville (4.161).
361 B.R.T., - N.T., - L X B X H = 36.6l (35,67) x 11.29 x 5.16 (4.74) meter.
Twee 2 tew 16 cil. dieselmotoren General Motors Corp., La Grange (230 x 254) 2 schroeven, 2 x 2.875 r.p.k., 13 kn.
1987: "SANTA CRUZ", Naviera Cerralvo S.A., Oranjestad.
1988: "PATRICIA B. McALLISTER", McAllister Towing & Salvage Inc., Montreal.
22-04-1991: Total Loss.

ESSO SANTA CRUZ
Built in 1976, by Atlantic Marine Incorporated of Fort George Island, Florida (hull # 4161) as the Esso Santa Cruz for Esso Shipping of Wilmington, Delaware.
The tug was registered in Aruba, Netherlands Antilles. Her primary function was the handling of large oil tankers.
In 1987, she was renamed as the Santa Cruz. She was put into service for Naviera Carralvo and registered at San Nicolas, Netherlands Antilles.
The following year, she was acquired by McAllister Towing and Salvage Incorporated of Montreal, Canada. She was brought into Canadian registry and renamed Patricia B. McAllister.
The tug was lost on the 22nd of April 1991 in the St. Lawrence River. In the early morning hours of April 22, 1991 when Patricia B. McAllister suddenly sank off the Gaspe Peninsula while in route from Montreal to the shipyard in Pictou, Nova Scotia for a routine inspection and general repairs.
Fourteen ships and six aircraft patrolled the area off Riviere au Renard, Quebec for several days as that was the tug's last reported position. Pierre Niguet, the sole survivor, was located after he had drifted for thirty six hours in one of only three on board emergency escape craft. After he had been treated for hypothermia at a local hospital he was released otherwise unharmed.
In a statement he said, "There was a large noise, a large bang" and shortly thereafter Patricia B. McAllister went down. Of the five missing crew members, four bodies were recovered. The fifth body was never recovered. Sometime later, a chance sighting by a research ship revealed Patricia B. McAllister's sunken position.
A length of blue towing rope which had been stowed on the aft deck of the tug and secured at one end to prevent it form washing overboard, unfurled as the tug sank and allowed the unbound end to float to the surface providing the searchers with a direct path to the wreck. Loran coordinates were taken. And later a remotely operated submersible was brought to the scene by the HMCS Cormorant.
Upon inspection it was found that a barely submerged ice floe, a "growler", had torn a 30(ft) long gash in the ship's hull immediately adjacent to the engine room compartment on her starboard side. The tug's main engine was visible through the gash. The Patricia B. McAllister had filled with water rapidly and within minutes her stern had dipped below the surface. She went down stern first and struck the bottom in the same vertical manner, her bow pointing towards the surface. Since she sank in 320(ft) of water, no salvage effort was ever attempted.
The tug was a twin screw tug powered by two 16 cylinder General Motors GM 16-645-E7 diesel engines rated at 6,100 horsepower. She was considered the most powerful tug on the inland waters.
(Gerry Ouderkirk)

Vessel Name: ESSO SANTA CRUZ
USCG Doc. No.: C.810810
Vessel Service: TOWING VESSEL
IMO Number: 7514309
Trade Indicator: Coastwise Unrestricted, Registry
Hull Material: STEEL
Hull Number: 4161
Ship Builder: ATLANTIC MARINE, INC.
Year Built: 1976
Length: 120
Hailing Port: ARUBA, NETHERLANDS ANTILLES
Hull Depth: 17
Hull Breadth: 37
Gross Tonnage: 439
Previous Vessel Names:
Esso Santa Cruz, Santa Cruz, Patricia B. McAllister
Previous Vessel Owners:
Esso Shipping, Naviera Carralvo S.A, McAllister Towing & Salvage Inc., of Montreal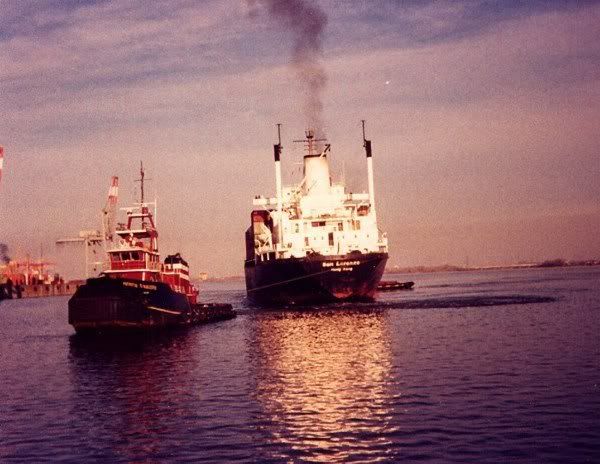 MV "Esso Santa Cruz" seen here as "Patricia B. McAllister", assisting the "San Lorenzo".
Photo taken by the Capt. Paul LeBlanc.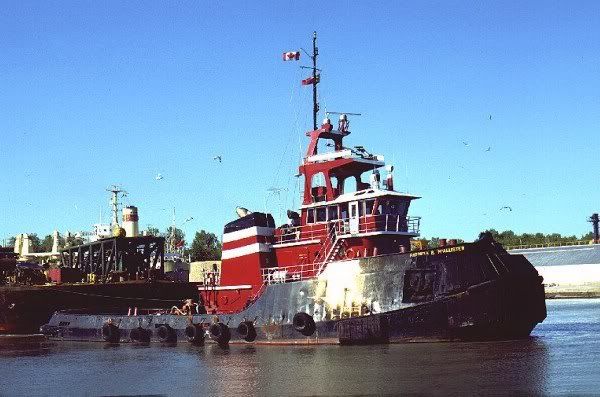 MV "Esso Santa Cruz" seen here as "Patricia B. McAllister".
MV "Esso Santa Cruz" seen here as "Patricia B. McAllister".