Auke Visser's Other Esso Related Tankers Site
|
home




Imperial Winnipeg - (1947-1954)

"Imperial Winnipeg".
( Photo thanks to Donald A. Baker )
The tanker Chryslerís Field was launched for the USMC at the Sun Shipbuilding Company in Chester, Pennsylvania, in September 1944 and completed the following month. She was purchased by the Imperial Oil Shipping Company in 1947 and renamed the Imperial Winnipeg. Sold again to Cia. Atlantica de Navegacion, S.A., Panama in 1954 and renamed San Pablo, and laid up at La Spezia in October 1957, she was broken up at La Seyne in 1962.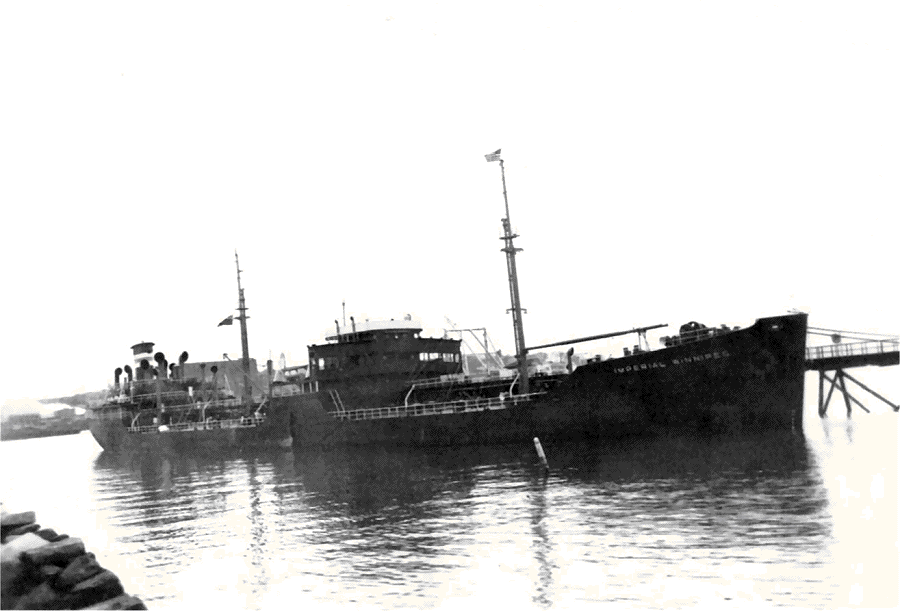 "Imperial Winnipeg".
Donald A. Baker wrote :
"It brings back memories. The Captain, First and Second Mates an myself left Halifax by train for Mobile, Alabama
in late November, 1956, where we were met by the Chief and three Engineers to become the Commissioning crew
for the recommissioning of the Chrysler's Field. About a week before sailing the rest of the crew came down and
we went to Houston, Texas for our first load and took it to Hamburg, Germany, as I understand, to be the first oil
cargo there since the end of the war. We were supposed to leave there on New Years Eve day, but during
unloading the old pipe line burst so we didn't leave till Jan 2/1947. We didn't become the
Imperial Winnipeg till March 1947 when all the paperwork was completed".
Additional information :
Built October 1944 by Sun Shipbuilding Company, Chester, Pennsylvania, as "Chrysler's Field" # 1781, for U.S.M.C.
1947 "Imperial Winnipeg", Imperial Oil Shipping Co., Ltd., Montreal, Canada.
1954 "San Pablo"., Cia. Atlantica de Navegacion, S.A., Panama (F. Zaccaro, Genoa), PA.
1962 Broken up at La Seyne 1962 by Soc. de Materiel Naval du Midi, arrived 17.05.1962 in tow
( Laid up La Spezia since 08.10.1957).
The Miramar Ship Index for "CHRYSLER'S FIELD"
| | | | |
| --- | --- | --- | --- |
| IDNo: | 2246652 | Year: | 1944 |
| Name: | CHRYSLER'S FIELD | Keel: | |
| Type: | Tanker | Launch Date: | 28.09.1944 |
| Flag: | USA | Date of completion: | 10.1944 |

DWT:

16613

Yard No:

448

Length overall:

159.6

Ship Design:

T2-SE-A1

LPP:

153.3

Country of build:

USA

Beam:

20.7

Builder:

Sun

Material of build:

Location of yard:

Chester, Pa

Number of screws/Mchy/Speed(kn):

1TE-15

Subsequent History:
1947 IMPERIAL WINNIPEG - 1954 SAN PABLO
Disposal Data:
Scrapped at La Seyne 17.05.1962 [ by Naval du Midi ]
History:
| | | | | | | | |
| --- | --- | --- | --- | --- | --- | --- | --- |
| ON | LR/IMO | ID | Year | Name | Tons | Change | Owner |
| 246652 | | 2246652 | 1944 | CHRYSLER'S FIELD | 10297 | | US Govt. |
| 177868 | | 2246652 | 1944 | IMPERIAL WINNIPEG | 10297 | 1947 | Imperial Oil Shipping Co., Ltd. |
| | | 2246652 | 1944 | SAN PABLO | 10297 | 1954 | Cia. Atlantica de Navegacion, S.A. |