Auke Visser's Other Esso Related Tankers Site
|
home




Rescue and the loss of the TSS "Wahine"

1951 August 15 At 05:40 a.m. the Wahine ran hard aground on the Masela Island Reef off Cape Palsu in the Arafura Sea, being
held as far aft as the engine room. In response to a distress call, all aboard were rescued by the Standard Vacuum Oil's tanker
Stanvac Karachi and returned to Darwin. From there the men were flown in relays to their destination but it was a sad end for
a vessel that had given thirty-eight years of magnificent service. Salvage attempts were unsuccessful and the vessel was
abandoned as a total loss.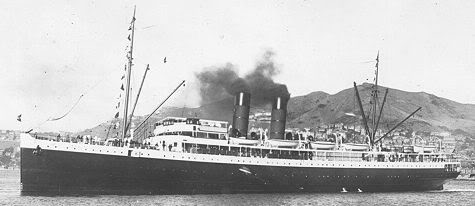 TSS "Wahine".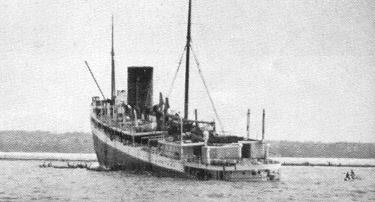 "Wahine" aground on the Masela Island Reef off Cape Palsu in the Arafura Sea.
However, as the vessel was carrying a number of 25 Pounder artillery guns for 16th Forward Regiment and in view of the unrest
then prevailing in nearby Indonesia, steps were taken by the army to remove the breech blocks from the guns on board. Masters of
company vessels passing through that area for many years thereafter reported Wahine was still "high and dry" on Masela Island.
The Wahine's chief officer at the time of the accident was F. J. Agnew, who subsequently distinguished himself as master of some
of the Union Line's largest ships. The second officer was R. E. Pugh-Williams, who was to become the master of the Maori (1953),
the chief engineer was W. B. Gandell. At the subsequent marine enquiry Captain Johnson and his officers were exonerated from
all blame and their certificates were returned to them.
Captain Johnson had first taken command of the Wahine in November 1944 and had remained a relieving master in the inter-island
service right up to the time that he took command of her on what was to be her last voyage and it was a very dejected skipper that
arrived back in Wellington about ten days after the wreck.
Three months later it was announced that he had died, suddenly, at the age of fifty-two, it was said that he had never got over the
shock of losing his ship, even although he had been proved blameless. It was a tragic ending to a promising career.
Acknowledgements
Thanks to Scott Bennett for much of the research, Steven McLachlan for many of the images and Marcus Castell for bringing
it all together.
The Miramar Ship Index for "WAHINE"
| | | | |
| --- | --- | --- | --- |
| IDNo: | 1127813 | Year: | 1913 |
| Name: | WAHINE | Launch Date: | 25.11.1912 |
| Type: | Passenger/cargo | Date of completion: | 09.04.1913 |
| Flag: | NZL | Keel: | |

DWT:

Yard No:

971

Length overall:

Ship Design:

LPP:

114.3

Country of build:

GBR

Beam:

15.9

Builder:

Denny, W.

Material of build:

Location of yard:

Dumbarton

Number of screws/Mchy/Speed(kn):

3ST-21

| | |
| --- | --- |
| Owner as Completed: | Union S.S.Co of New Zealand Ltd, Dunedin |

Subsequent History:
-
Disposal Data:
wrecked Masala Is, 250 nm N Darwin 15.08.1951
History :
| | | | | | | | |
| --- | --- | --- | --- | --- | --- | --- | --- |
| ON | LR/IMO | ID | Year | Name | Tons | Name change | Main Owner |
| 127813 | | 1127813 | 1913 | WAHINE | 4436 | | Union Steam NZ |

Photos below made on the "Stanvac Karachi" from that event ;