Auke Visser's Other Esso Related Tankers Site
|
home




Kaministiquia - (1916-1916)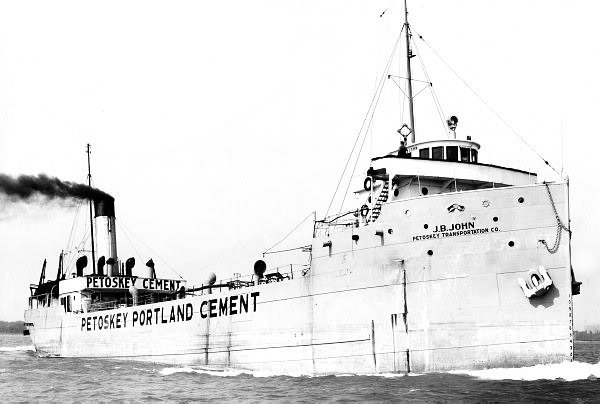 "J.B. John" ex. "Kaministiquia" after conversion from a tanker to bulk cement carrier in 1929.
"Kaministiquia" was built in 1909 for Western Navigation Co., Ltd., in Newcastle ( Fort William, Ontario, Canada )
Sold in 1916 to Imperial Oil Co., and in the same year to Standard Oil Co., New Jersey and renamed "Westoil".
See for further history, below.
Additional Information :
Registry and Rig Information

Vessel Name

KAMINISTIQUIA

Nationality

U.K.

Official Number

125457

Rig

Propeller

Dimensions and Tonnage

Vessel Length:

250.00 feet.

Gross Tonnage:

2172.00

Vessel Width:

43.00 feet

Net Tonnage:

1401.00

Vessel Depth:

22.50 feet

Hull Material:

Steel

Masts:

Hull Number:

00819

Vessel History

Builder

Swan, Hunter & Wigham Richardson, Ltd. Wallsend-on-Tyne, Great Britain 1909

Ownership Changes

Date

Registry

Official #

Western Navigation Co., Ltd. (J. Murphy, Mgr.) Fort William, Ont. Canada

1909- 1915

U.K.

125457

Imperial Oil Co., Ltd. Newcastle Great Britain

1915- 1917

U.K.

125457

Standard Oil Co. New York, NY U.S.

1917- 1921

U.S.

214109

E.P. Farley & Co. Chicago, IL U.S.

1921- 1922

U.S.

214109

Petoskey Transportation Co. Petoskey, MI U.S.

1922- 1956

U.S.

214109

Penn Dixie Cement Corp. Petoskey, MI U.S.

1956

U.S.

214109

Vessel Name Changes

Date

Registry

Official #

WESTOIL

1917- 1923

U.S.

214109

JOHN, J.B.

1923- 1954

U.S.

214109

GALSTER, JOHN L.A.

1954- 1969

U.S.

214109

SEA CASTLE

1969

U.S.

Rebuilds

Converted from tanker to bulk cement carrier by Manitowoc Shipbuilding Co., Manitowoc, WI, in 1929. Rig changed to barge, 1968.

History

Removed from documentation in May/June, 1969 as "Exempt." Renamed SEA CASTLE, after being dropped from documentation. Towed by tug NORTH AMERICAN in cement trade, Petoskey-Milwaukee, after this. As U.S. barge SEA CASTLE: Driven aground off Charlevoix, MI, Lake Michigan, on October 16, 1972, between Fishermans Island and Norwood, MI, while in tow of tug LAUREN CASTLE. Gotten off by tug CHARLES ASHER on October 20, and entered Bay Shipbuilding Co., Sturgeon Bay, WI, for repairs on October 25, 1972. On May 13, 1974 as about to enter channel joining Lake Macatawa with Lake Michigan in tow of tug JOHN M. SELVICK, explosion occurred on stern deck of barge, apparently caused by over heated air compressor. Fire resulted, barge drifted and hit pierhead, causing two-foot hole in stern above waterline. Fire put out after vessel secured.

Disposition

No Disposition Information Available