Auke Visser´s Esso UK Tanker's site
|
home




Arrow - (1902-1911)

The "Arrow", a four-masted steel barque, arrives in Hong Kong. It was one of 20 ships that Anglo-
American Oil Company Limited, Standard Oil's UK affiliate, used to carry case oil and kerosene
to the Far East around the turn of the 20th century.
"Arrow"
Bark "Arrow" leaving Hong Kong, circa early 1900's
Line drawing of the "Arrow", by an unknown artist.
Bark "Arrow" leaving Hong Kong, circa early 1900's
The launch "Mei Foo" towing bark "Arrow" out of a China harbor to catch offshore breeze.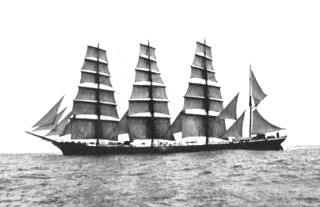 "Arrow" was build in 1902, seen here as "Parma".
Arrow - 1902
Steel 4-masted barque 3090 gross tons, 127,000 cases.
Built 1902 at Rodger's of Glasgow, Scotland, Arrow was one of the fastest barques in the kerosene clipper fleet. She
served Anglo-American solidly and without untoward incident for 12 years.
Shortly before the outbreak of WWI, Heir Laeisz, owner of a famous German line of nitrate sailers, bought Arrow for
£15,000, renamed her Pakma, and added her to his splendid fleet. The ex-Arrow subsequently became famous
both as a nitrate sailer to South America and as a grain sailer to Australia.
She escaped internment and capture during the war, but after Germany's defeat Parma was allocated to the British
as a war prize. Without a qualm, the British Shipping Controller sold the vessel back to Heir Laeisz. She reentered
the nitrate trade and remained in it until the Laeisz fleet vanished from the seas.
(For a fascinating sea-yarn about life on the Pamir, one of Herr Laeisz's other nitrate sailers, read Heinrich Hauser's
"Fair Winds and Foul", translated from German by Bertha Szold Levin and published in 1932 by Liveright Inc. of New
York. This book is rich with illustrations of these ships, and gives wonderful mind-pictures of what life was like
"before the mast" on these ex-oil sailers.)
"Arrow" - 2,1902 - 3,090 GT
Built by by A. Rodger & Co., Port Glasgow. Measurements: 327 feet length X 46 feet breadth
Fourmasted steel barque.
1911: "Parma" (F. Laeisz, Hamburg, Flying "P" Line).
During 1914-18 war was interned in Chile; later allotted to Britain.
1922: Repurchased by F. Laeisz and resumed work in the South American nitrate trade.
1930: (R. de Cloux, Mariehamn).
3 1.7.1936: Being moved into Princes Dock, Glasgow, by two tugs pulling against the wind, the
"Parma" suddenly veered and struck an observation tower on the pierhead. Coping stones on the
quay wall were dislodged and sprung open the steel how of the "Parma", loosening large plates
and almost wrecking the how. She was on a voyage from Australia to Glasgow via Falmouth
with 5,000 tons of wheat. Sold as a hulk and
1936: (Red. A/B Parma U. V. Wennstrom, Mariehamn).
1937: (Barnett Bros., London).
1938: Broken up.
Arrow
A four-masted steel barque built in 1902 by A. Rodger & Co., Port Glasgow.
Dimensions 99,84×14,14×8,04 meters [327'7"×46'5"×26'2"] and tonnage 3090 GRT and 2971 NRT.
Rigged with royal sails above double top and top-gallant sails.
Sistership to the same owner's four-masted barque Eclipse (1902).
1902 April
Launched at the shipyard of A. Rodger & Co., Port Glasgow, for Anglo-American Oil Co., London.
1912
Sold to F. Laeisz, Hamburg, for £ 15.000 and was renamed Parma.
1914
Interned at Iquique at the ourbreak of the First World War.
1920
Assigned as war damage reparations to Great Britain.
1921 November 8
Sold back to F. Laeisz, Hamburg, for £ 10.000.
1924-1926
In command of Captain Töpper.
1926-1927
In command of Captain Holst.
1926
Sailed from Hamburg to Talcahuano in 86 days.
1927
Sailed from Hamburg to Talcahuano in 88 days.
1928-1929
In command of Captain Rohwer.
1928
Sailed from Land's End to Talcahuano in 70 days.
1929-1930
In command of Captain Brockhöft.
1931
Sold to Ruben De Cloux and Alan Villiers, Mariehamn, for RM 34.000.
1933
Sailed from Port Victoria to Falmouth in 83 days.
1936
Sold after a minor accident in the harbour of Glasgow and was rigged off and used as hulk at Haifa.
1938
Broken up.