Auke Visser´s Esso UK Tanker's site
|
home




Tuscarora (2) - (1913-1914)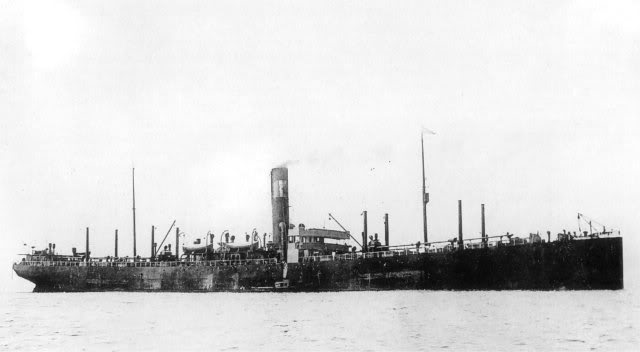 "Tuscaroroa", ex. "Niagara".
"Niagara" was build in 1908 by Flensburger Schiffsbau Gesellschaft, Flensburg, for the Deutsch-Petoleum GmbH, Hamburg.
1913 sold to Anglo American Oil Cp., London, renamed "Tuscarora".
1914 sold to the Tank Storage & Carriage Co., Ltd., Shanghai (GBR), Mgr. W.J. Smith.
1915 Renamed "Tecumseh".
1916 Standard Transportation Co., Ltd., Shangahi (GBR), Mgr. W.J. Smith.
On 23-11-1932 on the voyage Tandjong Oeban to Lourenco Marques, with petroleum and stranded near
Inhaca Point/Lourenco Marques, damaged and wrecked.
On 29-11-1932 abbanded by its crew.
Additional Info by Starke & Schell Registers :
NIAGARA - 1908 GE - 1 Quatriple Expansion engine, speed 11 knots.
6,655 GRT for Deutsch-Amerik. Petroleum Ges., Hamburg, Measurements : 440.0 x 58.4
Tanker built by Flensburger Schiffsbau Ges., Flensburg. In service 07/1908, Buildingnr. #277
1913 - TUSCARORA, Anglo American Oil Co., London.
1914 - TUSCARORA Tank Storage & Carriage Co., Ltd., Shanghai BR 135829
1915 - TECUMSEH, s/o.
1916 - Standard Transportation Co., Ltd., Hong Kong.
Wrecked 23 Nov 1932 on Inhaca Point, Lourenço Marques, voyage Tandjong Oeban - Lourenço Marques, petroleum.
Tecumseh
LOA 457' Beam 58'5" Depth 33' ex NIAGARA-1908 10.860DWT 71,430 bblls ex TUSCAHOHA-1915
Quadruple expansion engine 54" stroke
Built 1908 at Flensburg Shipbuilding, Germany, as NIAGARA. Acquired by Socony as a consequence of the 1911 dissolution. Renamed TUSCARORA in September 1914, but since this was evidently in conflict with Anglo-Americans use of that name, TUSCARORA was changed again to TECUMSEH in March 1915.
The Indian Tecumseh was a celebrated Shawnee chief who fought and died for the British in the War of 1812.
TECUMSEH was a flush-deck tanker with engine and stack amidships, and a 'tween deck for the carriage of case oil and general cargo. She was a coalburner to begin with, later intechangeable with oil, still later oil exclusively. TECUMSEH was cornrnandierd by the British Admiralty in 1915 for WW1 service, but returned to Socony a year later. The Admiralty chartered her backhaul cargoes from the Far East for the remainder of the war. Her career was suddenly brought to an end by the hazards of the sea.
She grounded on Lourenco Marques reef off Mozambique, on the east coast of Africa. She was pounded hy the breakers and abandoned as inrecoverable in November 1932.

The Miramar Ship Index for "NIAGARA"
| | | | |
| --- | --- | --- | --- |
| IDNo: | 1135829 | Year: | 1908 |
| Name: | NIAGARA | Keel: | |
| Type: | Tanker | Launch Date: | 02.06.1908 |
| Flag: | DEU | Date of completion: | 07.1908 |

Tons:

6655

Link:

-

DWT:

10860

Yard No:

277

Length overall:

Ship Design:

LPP:

134.1

Country of build:

DEU

Beam:

17.8

Builder:

Flensburger

Material of build:

Location of yard:

Flensburg

Number of screws/Mchy/Speed(kn):

1Q-11

Subsequent History:
1914 TUSCARORA - 1915 TECUMSEH
Disposal Data:
wrecked Inhaca Point, Lourenco Marques 23.11.1932.
History:
| | | | | | | | |
| --- | --- | --- | --- | --- | --- | --- | --- |
| ON | LR/IMO | ID | Year | Name | Tons | Change | Registered Owner |
| | | 1135829 | 1908 | NIAGARA | 6655 | | Deutsch-Amerikanische Petroleum Ges. |
| 135829 | | 1135829 | 1908 | TUSCARORA | 6655 | 1914 | Tank Storage & Carriage Co Ltd. |
| 135829 | | 1135829 | 1908 | TECUMSEH | 6655 | 1915 | Tank Storage & Carriage Co Ltd. |
| 135829 | | 1135829 | 1908 | TECUMSEH | 6655 | 1916 | Standard Tptn Co Ltd. |