The last of the present series of 250,000 dwt tankers to join Esso's fleet was christened "Esso Dalriada" at a ceremony held at Matmo, Sweden, June 20, 1973.
The vessel, a VLCC, was built by Kockums of Sweden, and the naming ceremony was carried out by Mrs Guido Colonna, wife of the Honourable Guide Colonna di Paliano, a director of Esso's parent company — Exxon Corporation, New York.
"Esso Dalriada" is to be delivered to the company in about a month, after completing trials. She is the eighth vessel of 250,000 dwt in our fleet.
Kingdom
Like the others, she is named after an ancient British tribal kingdom.
Dalriada was situated in the Western Highlands of Scotland and was known as "theccradle of the Scottish Kingdom". It covered an area roughly equiva lent to the current district of Lome in Argyll between the Firth of Lome and Loch Awe.
Officers
Appropriately, "Esso Dalriada" will enter service with senior officers from Scotland, Captain lan Smith lives at Monifieth, Angus, and Chief Engineer Charles Henderson was born in Glasgow.
The crew quarters of the vessel are furnished to a Irigh standard and recreational facilities will include a swimming pool and gymnasium equipped with apparatus such us punch balls, exercise bicycles and rowingmachines.
The Dalriada's vital statistics are: length overall - about 1,117 ft; length BP - a bout 1,080 ft; breadth moulded - about 170 ft; deadweight - about 252,000; speed - approximately 16 knots; power - 32,000 metric SHP; normal crew complement - 31.
Trials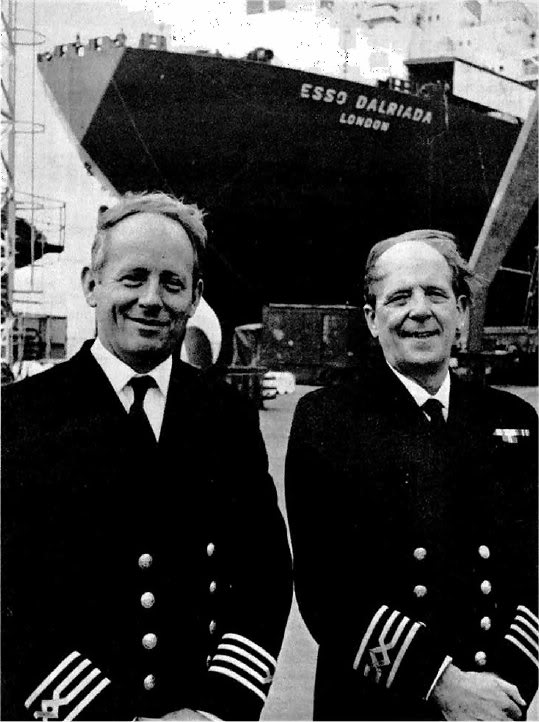 Captain lan Smith, pictured on the left, above, with Chief Engineer Charles Henderson, will take "Esso Dalriada" to sea for trials, and then on her maiden voyage to the Persian Gulf. He gained his experience of VLCCs on two of the company's other 250,000 dwt vessels, "Esso Cambria" and "Esso Scotia", and has served as a Master on this class since 1969.
He is married, with three children, was bom in Dundee and still lives in the Dundee area at Montifieth.
Captain Smith, who is 45 years old, has spent most of his seagoing career with Esso, having joined the company as a third officer in 1949.
This is the third occasion on which he has taken a new vessel to sea for the first time.
Charles Henderson, Chief Engineer, of "Esso Dalriada", joined Esso 26 years ago.
Experience
He is 50 years old and has wide experience of marine engineering, most recently in "Esso Hibernia" and "Esso Ulidia", both 250,000 dwt vessels.
Mr Henderson is a native of Glasgow but now lives at Ferndown, Dorset.