Auke Visser's Other Esso Related Tankers Site
|
home




Imperial Regina - (1946-1949)

"Imperial Regina" was built in 1926 as "Reginolite". She was renamed in 1946. Scrapped in Philadelphia 10.1949.
In 1926-1949 she was owned by Imperial Oil Co.
She was scrapped in Philadelphia PA USA by Northern Metals Co.
( Photo thanks to Donald A. Baker )
The pre-war tanker Reginolite was German-built for Imperial Oil in 1926 at the AG Vulcan Stettin shipyard. She was in a notable collision with the Craster Hall (1909, briefly the USS Craster Hall) off Talara Point, Peru, on June 19, 1927, which left the Craster Hall a wreck on the beach. Reginolite became the Imperial Regina in 1946, and was broken up by Northern Metals in Philadelphia in 1949.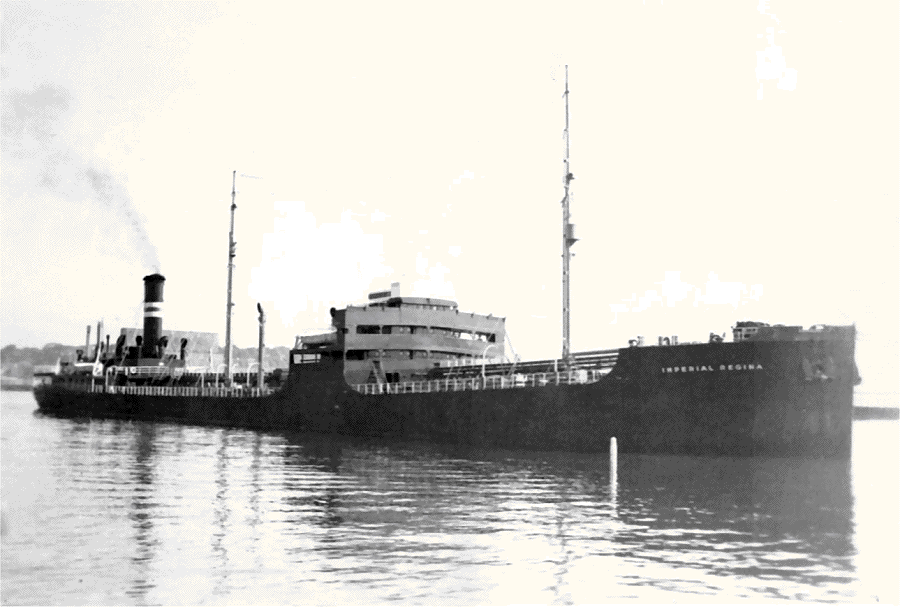 "Imperial Regina".
"Imperial Regina".
Additional information :
REGINOLITE - 1926 CA 2 M (aft) (10)
9,069 GRT for Imperial Oil, Ltd., Toronto / Montreal 469.2 x 63.1
Tanker built by Akt. Ges. "Vulcan", Stettin (3) #677 152786
1946 - IMPERIAL REGINA, s/o.
Broken up at Philadelphia 1950 by Northern Metals Co., arrived Halifax 13.10.1949 in tow
The Miramar Ship Index for "REGINOLITE"
| | | | |
| --- | --- | --- | --- |
| IDNo: | 1152786 | Year: | 1926 |
| Name: | REGINOLITE | Keel: | |
| Type: | Tanker | Launch Date: | |
| Flag: | CAN | Date of completion: | 03.1926 |

Tons:

9069

Link:

-

DWT:

Yard No:

677

Length overall:

Ship Design:

LPP:

143.0

Country of build:

DEU

Beam:

19.2

Builder:

Vulcan-Werke

Material of build:

Location of yard:

Stettin-Bredow

Number of screws/Mchy/Speed(kn):

2D-10

Subsequent History:
1946 IMPERIAL REGINA
Disposal Data:
Scrapped at Philadelphia 10.1949. [ Northern Metals Co. ]
History:
| | | | | | | | |
| --- | --- | --- | --- | --- | --- | --- | --- |
| ON | LR/IMO | ID | Year | Name | Tons | Change | Owner |
| 152786 | | 1152786 | 1926 | REGINOLITE | 9069 | | Imperial Oil, Ltd. |
| 152786 | | 1152786 | 1926 | IMPERIAL REGINA | 9069 | 1946 | Imperial Oil, Ltd. |